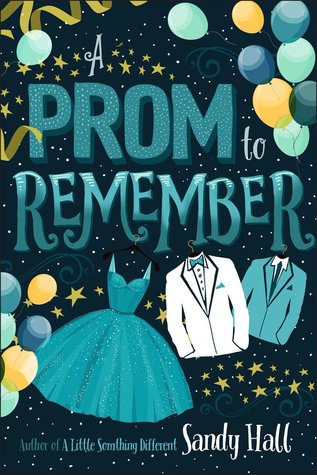 Title: A Prom to Remember
Author: Sandy Hall
Publisher: Swoon Reads
Publication Date: April 24, 2018
Genre/s: Young Adult and Contemporary
Format: eARC
Pages: 320 pages
Purchase links: Book Depository | Amazon | Barnes and Noble
Seven seniors, seven problems, one senior prom.
Cora: Head of the Prom Committee (and basically every other club in school). Has been dating Perfect Boyfriend Jamie™ for approximately forever, and has NO IDEA how to break up with him….
Paisley: Sarcastic feminist who wants nothing to do with prom. Has somehow managed to nominate her anxiety-ridden best friend for prom king…
Henry: Quiet ballplayer who hates social situations. Invited to prom by the most popular girl in school. SEND HELP!
Otis: Charming, popular, and one half of one of the cutest couples in his class. Doesn't know how to tell his boyfriend that he's not quite ready for a post-prom hotel room experience…
Lizzie: A little bit shy, and a lot excited to finally get out of her comfort zone and go to prom. With a boy. Whose name she doesn't know.
Cameron: Loner with two jobs and zero friends. Is so done with high school and this whole town: the only thing he still wants to do is meet the mysterious girl who's been leaving him notes…
Jacinta: Unnamed Nerd Girl #3. Determined to become the star of her own life, starting with prom. Now if only she could find a date….
A Prom to Remember, the newest book from Sandy Hall (author of A Little Something Different) is a funny and cinematic look at the biggest dance of every high schooler's life.
*I would like to thank Swoon Reads and Xpresso Book Tours for including me in the tour and providing me a copy. This does not affect my opinion of the book and the opinions expressed in this review are completely my own.
Prom is something that all of us must experience in our life, it's like a party ender for high school, telling you survive and on your way to the next level of your life, College. A Prom to Remember is about seven senior high school students and one prom. 7 characters comes with seven different perspectives for their upcoming prom. All of them has their differences, their own fears and problems from keeping them to have a perfect magical prom. Having 7 characters with alternating POVs might be hard to remember them at first but you'll get used to it, each character is also connected to each other giving us the bigger picture for their prom.
Overall I enjoyed reading the book because it has a diverse and realistic characters. I love the LGBT representation because we need more of those also the portraying of the characters to discovering the tough life of young adulthood. It's a fun fluffy contemporary read that everyone would enjoy. I can't wait to read the other book from the author.

I'm a teen librarian from New Jersey where I was born and raised. I have a BA in Communication and a Master of Library and Information Science from Rutgers University. When I'm not writing, or teen librarian-ing, I enjoy reading, slot machines, marathoning TV shows, and long scrolls through Tumblr. A LITTLE SOMETHING DIFFERENT is my first novel.
Find her on: Website | Goodreads | Twitter
Win a print copy of 
A

 

Prom

 to 

Remember